We have been preparing and planning this blog for a while now. Part of that has involved shooting literally hundreds of images of the projects in the shop. There are images of completed projects going back a few years that eventually will be posted along with the history we know about each one. Clients tell us that they enjoy seeing the process and final result. I enjoy each story that I hear about them as well.
This week I was getting ready for the next post, looking through images trying to decide what to write about next. In the process, I ran across some shots taken during our winter snow storm. Now I lived in the Midwest for a time and experienced real winter storms firsthand for a few years. I know that our storm wasn't really that newsworthy. But in our area of Texas we are more likely to have three seasons a year – green, brown, and gone.  So, a twelve inch snow is news and it shuts down everything. When it hit I had a couple of days off work so I grabbed the camera and went out shooting.
Here are a few shots in our historic neighborhood.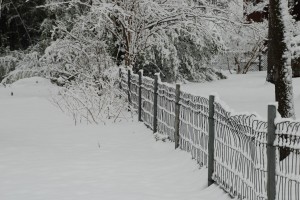 Our afternoon temperatures recently have been in the high 90's and 100's. It has been pretty warm in the shop so seeing these winter scenes seemed to make me cool for a while.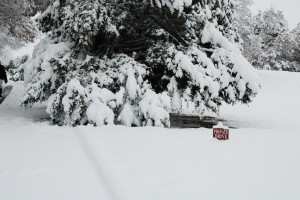 The second or third day of snow cover, as things were starting to melt, we had an unexpected visitor to our front yard. A hawk landed in the tree outside our front door. Surprisingly he spotted and captured (meaning ate) a small snake. Afterward he sat in the tree for about half an hour or more giving me a chance to grab the camera. I shot these images of Mr. Hawk through the window so as not to scare him away. Not being a bird watcher, I have zero knowledge of what type of hawk he is, or if he is really a he or not. Nevertheless he is a beautiful creature and a welcome visitor.
While I was watching him and taking his photo, he seemed to be watching me and posing. I'm not sure who enjoyed it more  – the hawk or me.
I hope you enjoy seeing him and hope the winter wonderland will make you remember being cool for a few minutes this hot July. To you and Mr. Hawk, thanks for stopping by.