We had a client ask a few years ago if we would make a special box to hold her family bible. It seems that her family had passed this bible through several generations and it was beginning to deteriorate from constant handling. Of course we were happy to have her trust us with that project. We completed the box to her specifications for size, wood species, and finish. Here you can see a photo of it in quarter sawn oak with an antique oak finish and oval viewing window.
Since that time we have made a few more. Our son Scott received one for a wedding gift in which we included a bible with a family register section.
For Scott's we used walnut and added bird's eye maple to the top. Brass hinges allow the top to open without overextending and we added a ribbon to lift the bible.
When one of our employees was planning his wedding Vivian thought it would be a great wedding gift for him as well. Actually John's fiancé was planning the wedding, he was just following instructions.
John started working in the shop a little over three years ago while taking a break between college and law school. With a hobbyist's background in woodworking he jumped right into any project we threw at him. Quickly he demonstrated a natural talent for the craft. He has been in and out of the shop during school breaks and has helped with several large commissioned jobs.
Our shop is not huge, so we all work closely together. In working with John, we became friends as well as coworkers. So, I wanted to build his gift myself. That partially explains why it took so long. Another reason is that I had to hide it from him.  While he has been in and out of the shop, I have had to keep it under wraps literally, so he wouldn't see it. If he had he surely would have asked questions.
Recently we delivered the gift to John and his wife. Here is the completed bible box.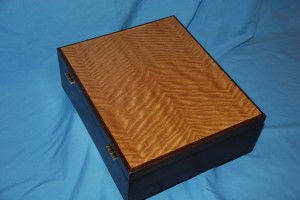 The body is made from American Black Walnut which was some stock left from a commission that John helped us with. The sides are made from a single board so the grain continues around all four corners. The top is quarter sawn, figured, book matched Movinqui. The iridescence of the grain really plays with the light.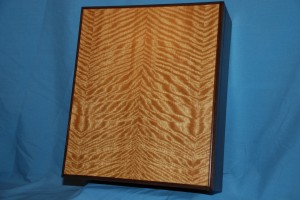 We chose a bible with a family register section. This is something Vivian and I were raised with, being from the South. My search for a bible with a register makes me think it isn't as common today.
Hopefully in years to come John will look at the bible box and think back on happy times working in the sawdust.