After considerable repair work and refinishing, the Free-Westinghouse sewing machine went home to the grandson of the original owner. This 1920's ornate walnut sewing machine cabinet is now restored to a treasured family heirloom. You can see the results in the photos below. Click on any image for a larger view. If you missed the original posting look at the before condition here https://lifeinthecorner.com//?p=20.
Here is a view of the completed machine.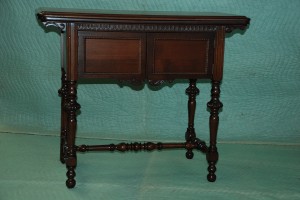 We began by stripping the old degraded finish and cleaning the wood to remove machine oil and water spotting on the top. The case required a good deal of veneer repair, but we managed to save all the original walnut veneer. The back support leg for the work surface was broken, but the family had saved all the pieces. It was reinstalled after being glued. The case itself was all intact and only needed to be glued.
We sent the machine head to a local sewing machine repair expert to be cleaned, lubricated and adjusted. It hums right along now as evidenced by the sample stiching sitting on the throat plate. As a safety precaution, the power cords were replaced to the speed control and wall outlet.
Here you can see the machine head after cleaning and reinstallation.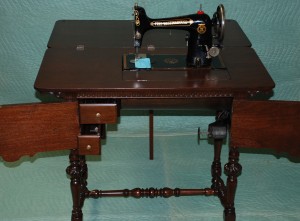 Some of the original carvings were missing or broken. Composition molding was used on the originals, Courtney carved the new ones from walnut and applied them. Before and after is seen here.
Following a light sanding, a walnut stain was rubbed to replicate the original cabinet color. Final finish in a satin sheen will protect and beautify it for decades to come.
The completed project shows a great family piece preserved for their future generations to enjoy.