Slab tables are very popular right now. Combined with an industrial base, they make a statement in a contemporary setting. Our client found this slab of Suar wood in a quirky import shop in Dallas. It was such a bargain that I went looking for more, but they were all gone.
Next came the decision of what type of base to use. There were no more slabs to cut for a wood base so our thoughts turned to something metal. We talked about several designs to have welded and painted, or maybe chromed, or maybe a brushed surface. Then we hit on the idea of an industrial machine base. He and I both searched shops and the Internet until he found the base we used.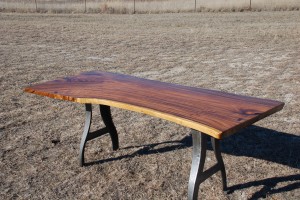 The slab had some splits that needed repair. For those we used some walnut bowties mortised into the top. Tinted epoxy was used to fill some voids and then the top was sanded reasonably flat. We didn't want a perfectly flat surface, so some irregularity was left to complement the matte sheen finish. In the images below you can see the flowing curve of the sapwood edge, the interesting zig-zag grain pattern, and one of the bowties. It all equals a tabletop with a lot of character.
The base is a re-purposed industrial lathe stand made of very heavy cast iron. It was never painted, except for the occasional spill, so we left it natural. Following a thorough cleaning, it was given a good coat of wax to keep the rust away. Easy maintenance too!
The completed table looks fabulous and is plenty durable. Next challenge is chairs.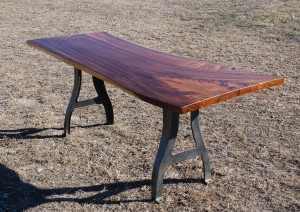 Slide me a beer down this way will ya?