Saturday, December 4th was the date for our first ever Open Studio. We opened the doors to clients, friends, and neighbors to let everyone tour the facilities and see where the work is done. Open Studio was not intended to be a "selling" event, rather an opportunity to showcase the variety and quality of our work. So, we stored all the tools, cleaned and covered all the work benches, and turned off the power to everything sharp. Then we spread the food and drinks throughout the building.
We had a great time visiting with clients, new and longstanding, thanks for stopping by.
In addition to restored pieces, a few of our PUNCH items were displayed. Plans and photos of future custom projects were shown also. Below are some photos from Open Studio 2010.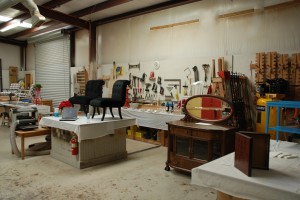 Here is the woodworking and repair area, with one of our bible boxes in the foreground.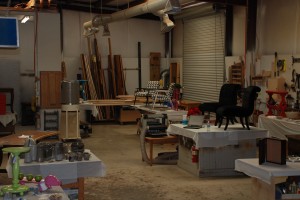 This is a general view of the main shop area.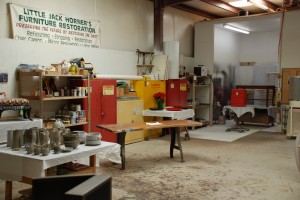 The sanding and staining area is in the foreground, with the finish room at the far end.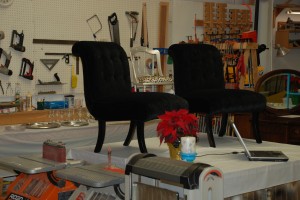 Above is a pair of black lacquered chairs covered with black velvet with a buttoned back.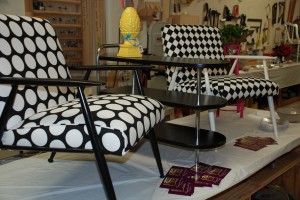 Here are a pair of mid century chairs. One in black lacquer, one in white lacquer, each covered in a geometric black and white fabric.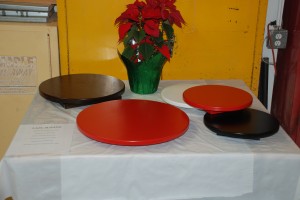 We have made matching Lazy Susans to accompany many of the custom dining tables we've completed for clients over the years. Lately we have begun offering them lacquered in bright colors as well. A variety of sizes and colors are available.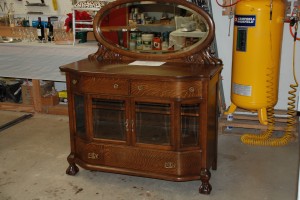 Restoration was complete on this beautiful quarter sawn oak buffet. Originally from the Hawkins Dairy in El Paso, circa 1900, this family heirloom will be delivered this week.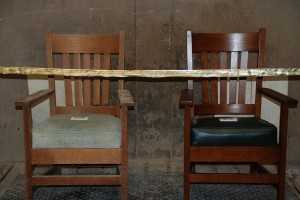 We completed one of this pair of Arts and Crafts era chairs. They made a good before and after display.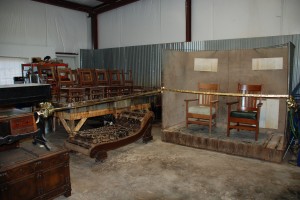 The stripping and cleaning area is a place most folks never see. This is where the really dirty part of the restoration begins. In this photo you can see some upcoming projects.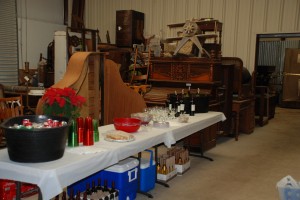 The wine awaits! Refreshments were all over the place. The Red Hot Chef outdid herself, as usual. Nobody left hungry or thirsty. You can see some future projects in the background.
We had a good flow of visitors all evening. The slab table in the foreground is a work in progress that garnered a lot of attention.
We had a good time doing Open Studio and look forward to doing it again next year. If you stopped by, we hope you enjoyed it and will come again. If you were not able to make it, I hope you can make it next time.