Just in time for Thanksgiving, we restored the finish on a Heywood-Wakefield dining room set from the early 1950's. Our client inherited the furniture from her grandmother. In constant use since it was delivered in 1952, we received it in incredibly good condition. It had all the usual bumps and bruises that you would expect from 60 years of use. The finish was completely worn out, but there were surprisingly few structural repairs needed.
Heywood-Wakefield has been making furniture since 1826. This dining room was the pride and joy of the new owner in 1952. After all, mid century modern was brand new then. Constructed of solid birch, it was made with unquestionable quality. There are no secondary materials at all in the table or chairs. Even the table slides are made from solid birch, matching the table top exactly. The chairs are somewhat delicate looking, but solid as a rock. This is a true example of "they don't make 'em like they used to".
Our restoration centered on the finish. It was deteriorated beyond saving, which is only normal after that many years of service. We removed the original finish and treated some areas for stains. A few minor repairs were made before sanding and staining. We stained the furniture with a stain that exactly matches the original Heywood-Wakefield champagne color. A durable satin sheen topcoat completed the refinishing.
While we worked on the finish, our upholsterer recovered the original seat cushions (with labels intact) using fabric the client found that bears a close resemblance to the original. New padding makes them comfortable too.
Take a look at the photos and see a true American mid century classic.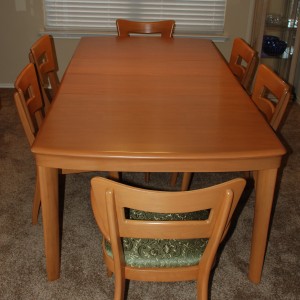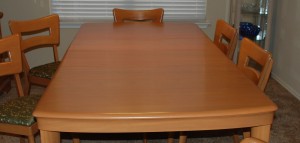 Don't those chairs just scream 1950's?