Happy Mother's Day to all the moms out there. Much of our restoration work is because of you. Over the years we have had many, many projects brought to us because they remind the owner of their mother. Many things remind us of our mothers and we are proud to be able to restore these heirlooms so the memories will live on for generations to come.
The carousel horse in todays post was given to our client upon her graduation from medical school, by her mother. It was individually decorated for the buyer when purchased and is near and dear to its' owner.
As all mothers know, it only takes an instant for your little one to have an accident. That is exactly what happened when our client's young daughter tried to ride the horse. The results are shown in the pictures.
Fortunately we were able to reattach the head, repair the damage, and touch up the finish. The horse is a resin casting with foam inside for support. You can see in the photos how it was made. We were able to use a two part epoxy and fill the area of the break. Carving away some of the foam core allowed us to create a cavity that we filled with the epoxy, completely bridging the break. This is a very secure repair that will never break again (in the same place).
We were able to use the same epoxy, with a thickener added, to fill some voids. All that was left was a little sanding to restore the surface to the original level and shape.
Several hours were spent blending acrylic colors and repainting each color. Finally, the repaired area was topcoated with a clear lacquer to match the original sheen.
Here is the completed horse before it was returned to a place of prominence in her home, showing no signs of the injury.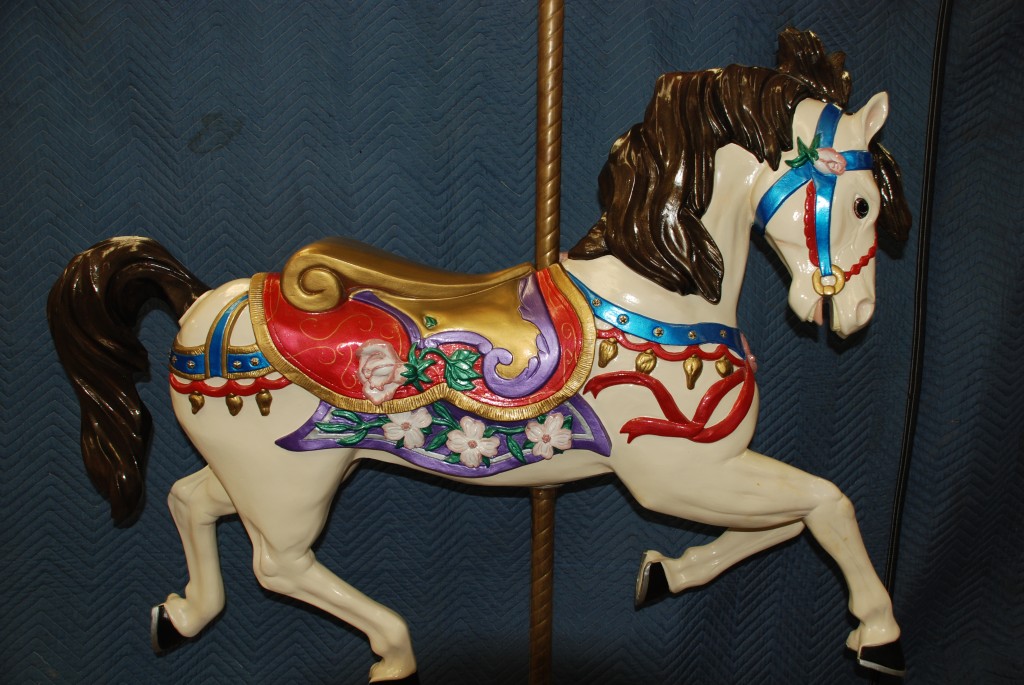 (We do not work on live horses.)